If you are a preparation centre and would like to enter your students for an exam, please download a block/bulk registration form and e-mail it to us. Alternatively, you can fax or post it to us, please find our contact details here. Our Centre Exams Manager will then contact you by e-mail.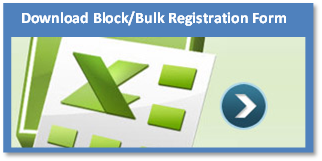 Simple instructions to follow:
Click on bulk upload icon to download excel file.
Enter candidate detail in highlighted columns. Please do not worry about other columns.
Save file and email to Centre Manager.
If you are experiencing problems with downloading the file please contact us and we will email you a copy.